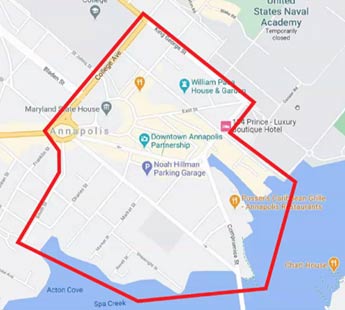 Changes are coming to on-street parking in the downtown core (in Parking Districts 1 and 2, see map below). ParkMobile signs are being placed to indicate that on-street parking in these residential zones is moving to paid two-hour parking. The signs will be in place without enforcement for a two-week grace period. Enforcement will begin on Monday, May 16, 2022.
Residents with parking stickers (Districts 1 & 2) will retain free parking privileges. Please contact SP+ to ensure that your parking stickers are up-to-date.
The City of Annapolis instituted this change because over many months and numerous community meetings, residents and resident association leaders pressed for prioritizing downtown parking specifically for residents during the rebuild of the Hillman Garage. Paid two-hour parking on residential streets incentivizes non-residents to migrate their parking needs to surface lots and garages.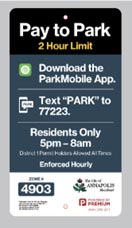 USING PARK MOBILE: Non-residents are encouraged to download the ParkMobile app (Android/Apple). After the app has been downloaded, add your vehicle tag, payment method and allow "location enabled services" to automatically determine ParkMobile parking zone data. Parking can also be paid by texting "PARK" to 77223 or calling 877-727-5758 (or 877 PARK 758).
DETAILS & HOURS: In Districts 1 & 2, parking will be free to downtown residents with a specific permit and limited to TWO-HOUR PAID PARKING for all others from 8 a.m. to 5 p.m. Both parking districts will be permit parking ONLY from 5 p.m. to 8 a.m. with the exception of some holidays and events as determined by the City.
From now until July 2022, parking enforcement will be conducted by the City's current vendor, SP+ (www.AnnapolisParking.com). In July 2022, parking enforcement will be conducted by the new vendor, "Premium Parking."
WHAT ABOUT GUESTS? Guest passes will continue to be issued to residents, up to 10 per month, per household plus 25 annually. Contact www.AnnapolisParking.com for details.
HILLMAN GARAGE: For more information on the 14-month rebuild of Hillman, visit www.AccessAnnapolis.com.
The City's goal is to make sure there are parking spaces available for our residents. Throughout the rebuild of Hillman, the City will continue to assess resident needs and make changes as warranted.